Baby Love
These two are such darlings! No, really! I've had the pleasure of working with them, and for them, for quite some time. Rewind to the year 2007, at Ruby Tuesday's in the Wilton Mall. That's truly where it all began. And it's also where their own love story began as well! Lauren was a hostess, Paul was a line cook and I was a server. There's a lot more to the story, but I'm going to fast forward a bit. Through some mystical force, Lauren and Paul found themselves connected to me, once again, in 2013. (Not really a "mystical force." Lauren has a sister whom I also met at Ruby's, and who had hired me to take some infant photos prior to).
By 2013, much had changed. I was running my own photography business. These two had found themselves engaged to be married. (Eeeek!) So this is where I come in!! Two-thousand thirteen proved to be a good year! It brought beautiful engagement and wedding photos of Paul and Lauren (in July and November, respectively).
But let's fast forward to the present (March 2017). These two are expecting Levi in early April, and I couldn't be more thrilled for them! Below is a sampling of "a-day-in-the-life" with Paul & Lauren -- pets and all! This is real life! And Levi is about to enter into a pretty cool family. As a couple, they exude love! And the love they also share with their pets will just be an extension of what's in store for Levi! See for yourselves!
Loving the photo on the right! How the light kisses on Lauren's silhouette, and with the crib in the background.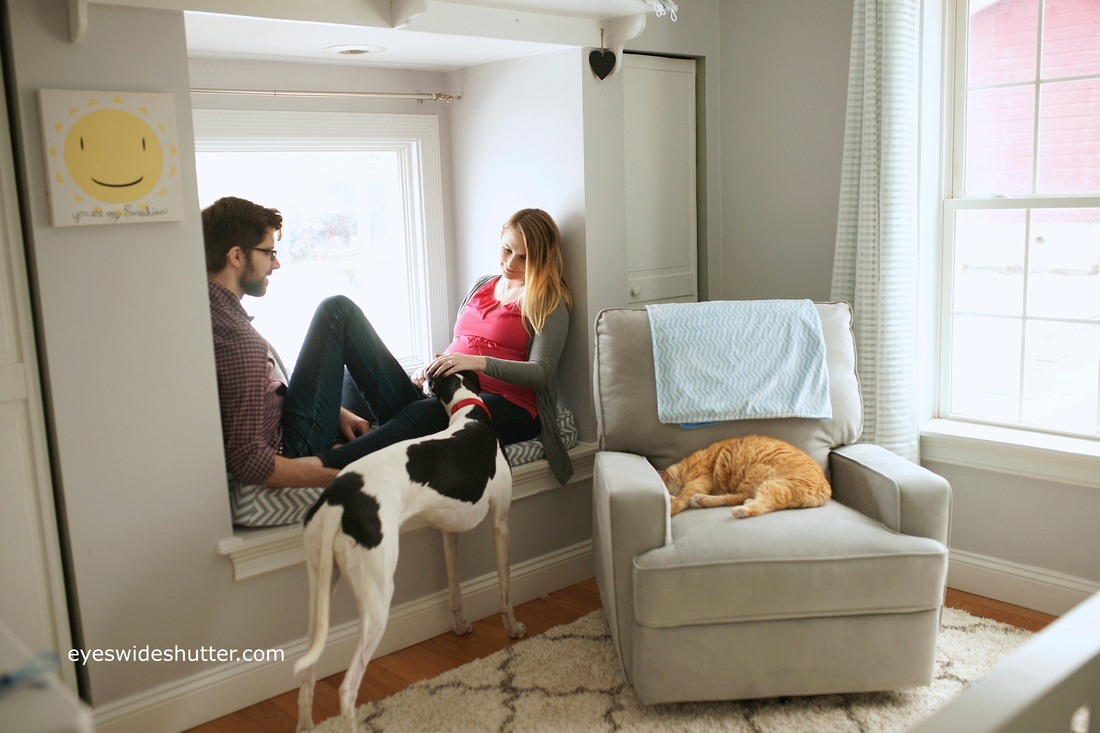 Enter two of the three fur-babies: Hazel (greyhound) and Quinn (fat cat).
Third fur-baby: Kobey (italian greyhound -- family veteran for 10+ years). The picture on the right is so ridiculously awesome! I do not consider myself to be much of a "pet photographer." But, seriously, there is so much emotion going on!!
"Yes, I love my Mama!!"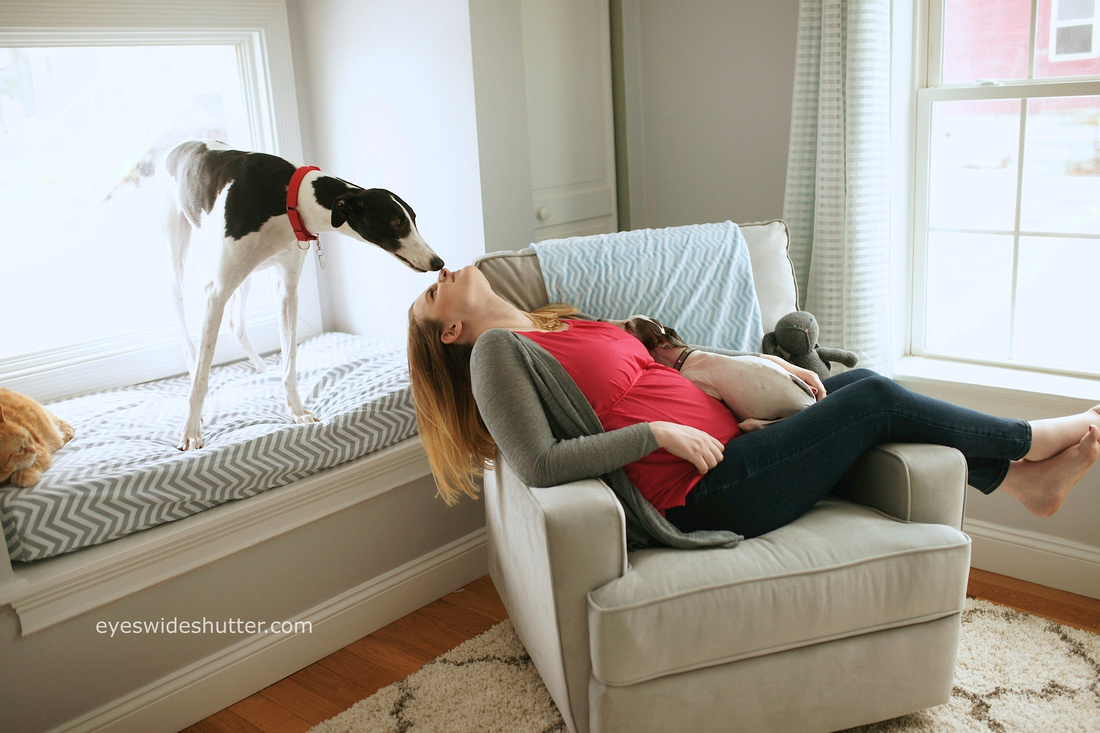 "And please don't forget about me!"
To the right of the windowsill is "Todd", Paul's childhood bear (who also deserves a nod).
Even though Lauren was really just trying to smooth out Paul's hair, the moment reads so differently. Love the tenderness, regardless.
Seriously! Glowing Mama, or what?! xoxo
And again!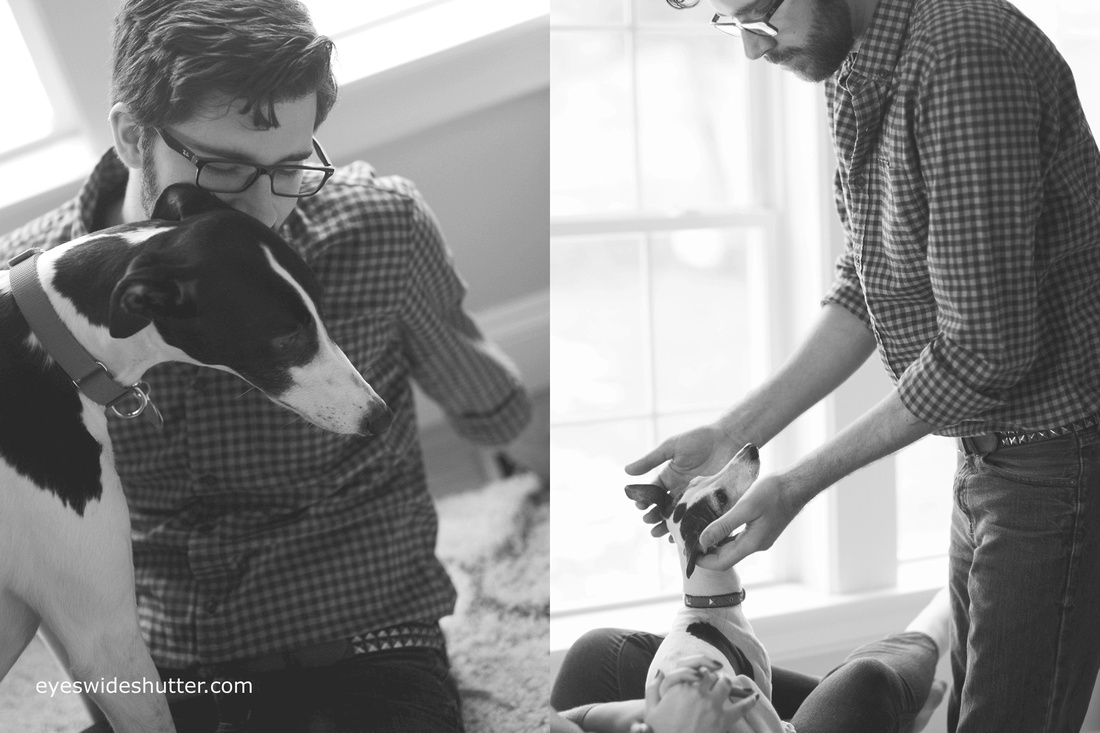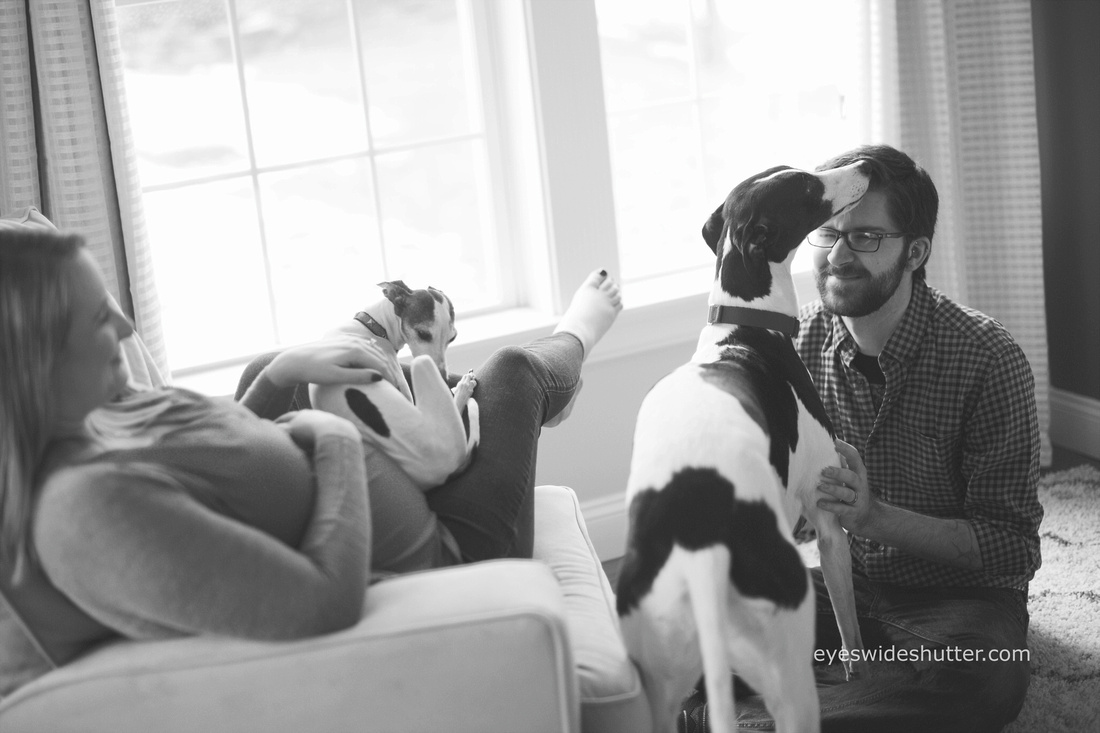 Kobey, posing.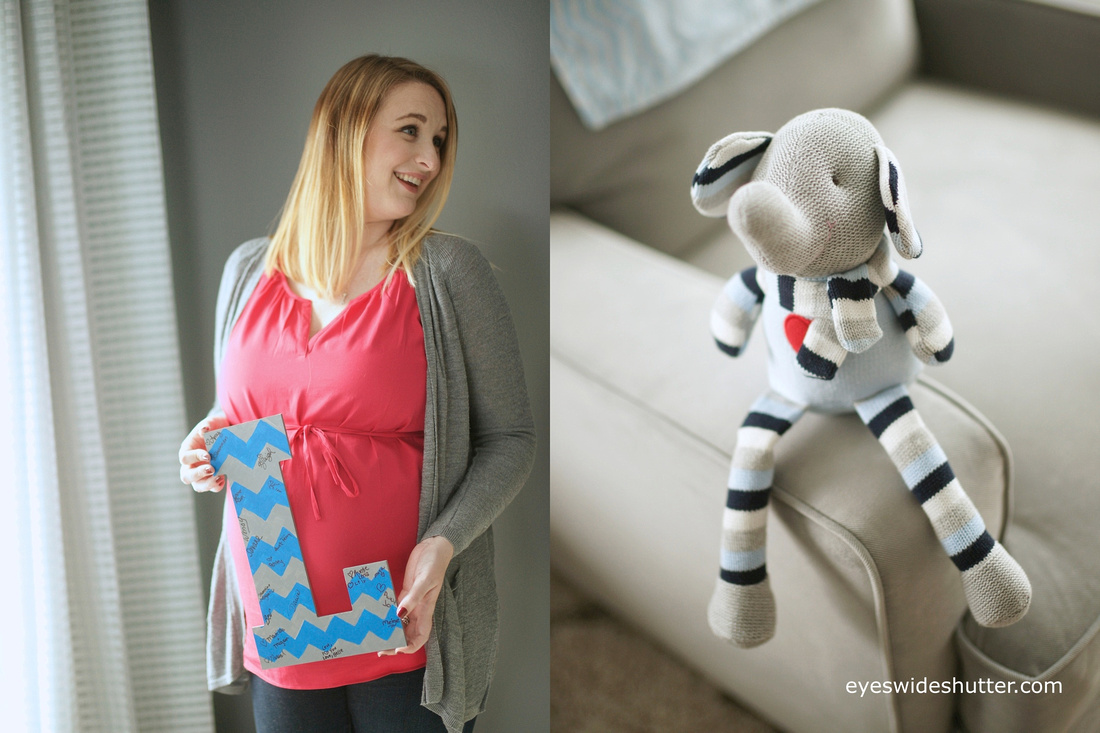 This "L" was signed by all of the people who were at Lauren's baby shower. (And I told Paul to say something funny, to make Lauren laugh. Success!)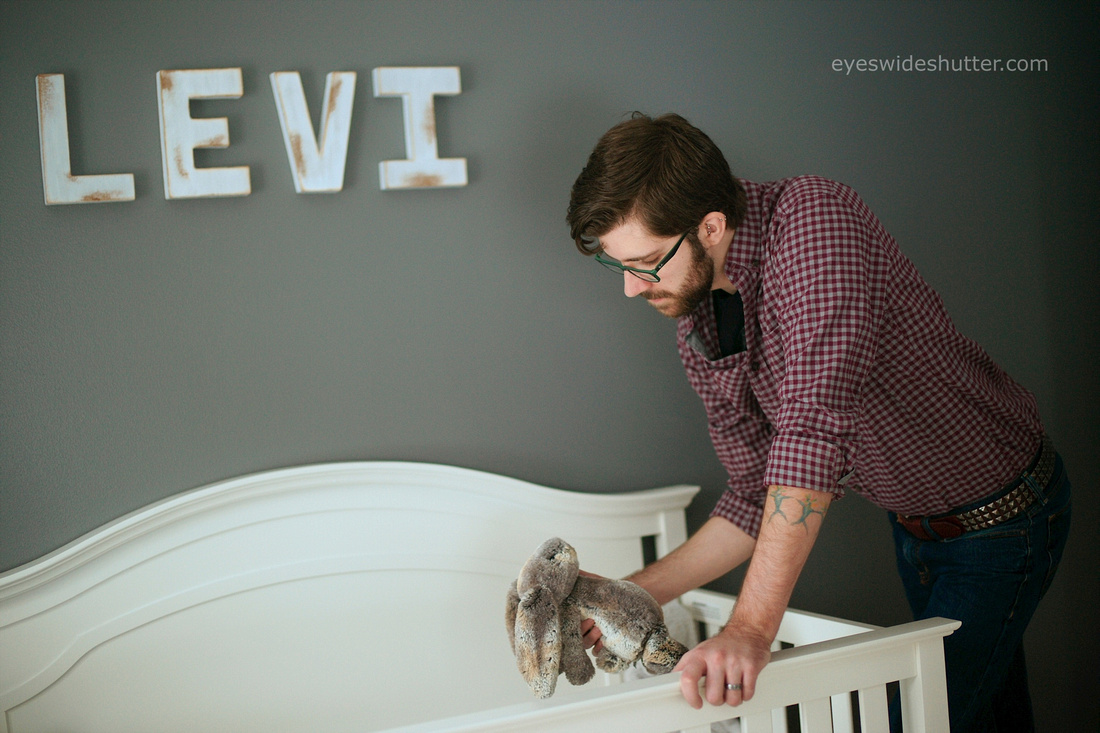 O.M.G. Nothing more needs to be said.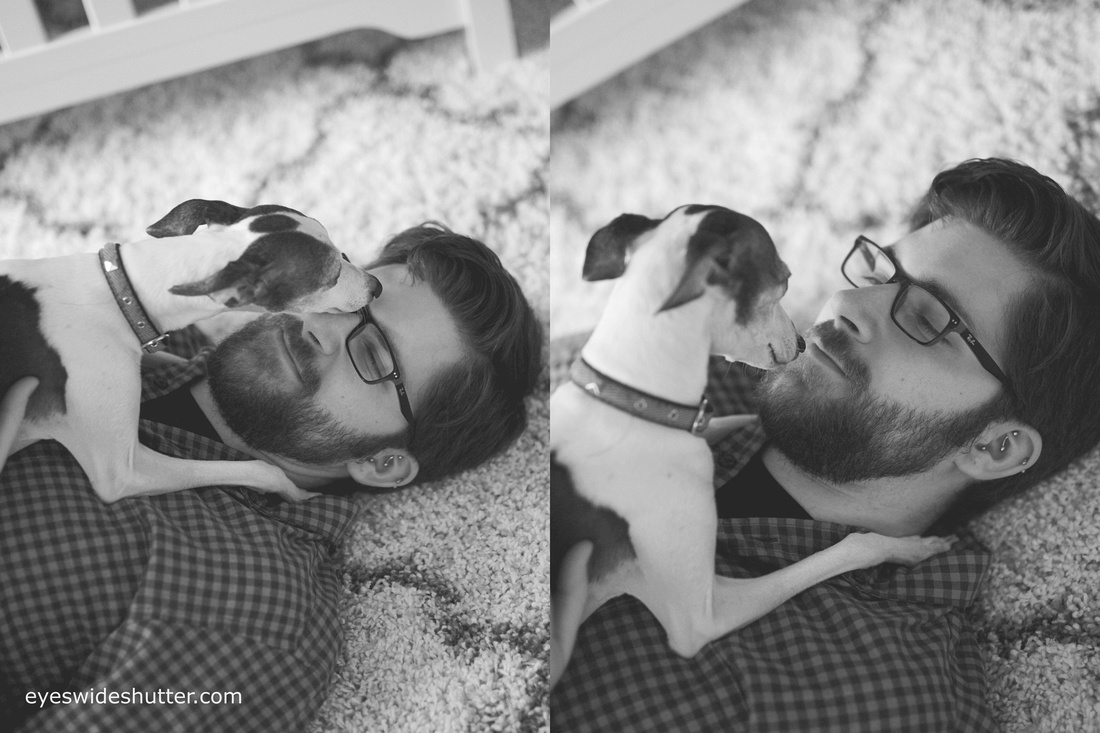 More pet love! Can you imagine all of the love just waiting for Levi?!
Bunny to the left was made by Paul's sister, Jonelle. (I love homemade gifts, btw). To the right is a closer view of Todd, Paul's childhood bear.
Levi doesn't know it just yet, but some day he's going to be a superhero!
Ahhh, pregnancy. The limitations it can sometimes set. Swollen feet? Check. Not being able to put your own shoes on? Check.Check. Doting husband? Check.Check.Check.
We had moved from indoors to outdoors, so I needed to change my camera settings. These were shots taken as I was readjusting. It looks as though husband might be wanting a snowball fight with pregnant wife. Nah, that's not how it went down!! There were some laughs, and then Paul threw the ball high up and to his right. Away from camera lens (thank-you) and away from Lauren (double thank-you).
In case the dead tree comes down in the future, you'll always have this memory. (And the fact that your photographer liked its craggily branches).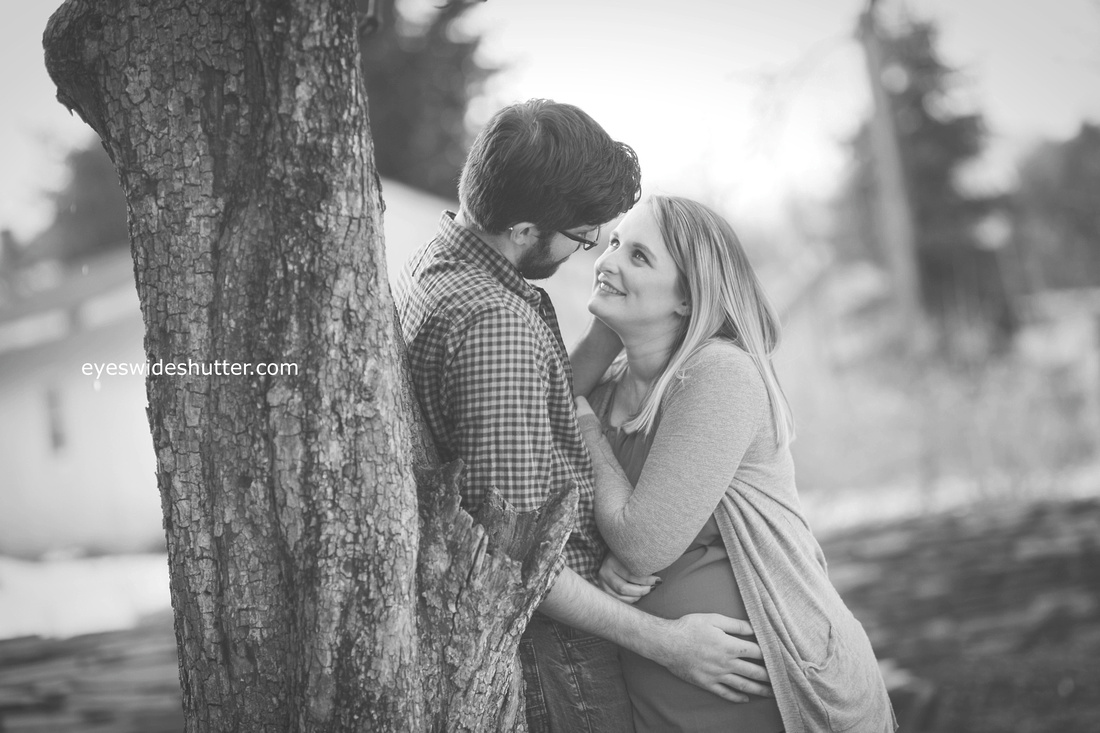 Pregnancy can be sensual... just leave it to me!
Ummm... yes please! P.S. They are hoping Levi gets his Mama's eyes. Can you blame them?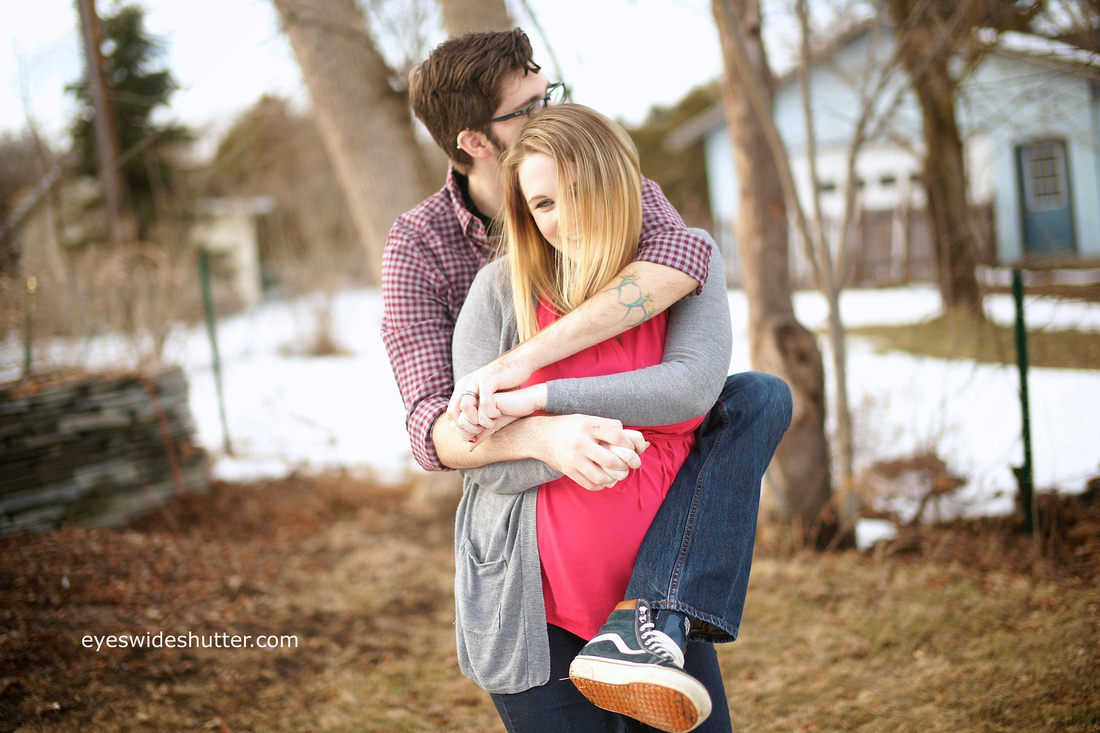 Paul is 6'4", and I'm telling you, every part of him loves his unborn son. Even his legs that go on for miles!
It's rare, indeed, to catch Paul looking straight into the lens! But this is a perfectly unscripted expression.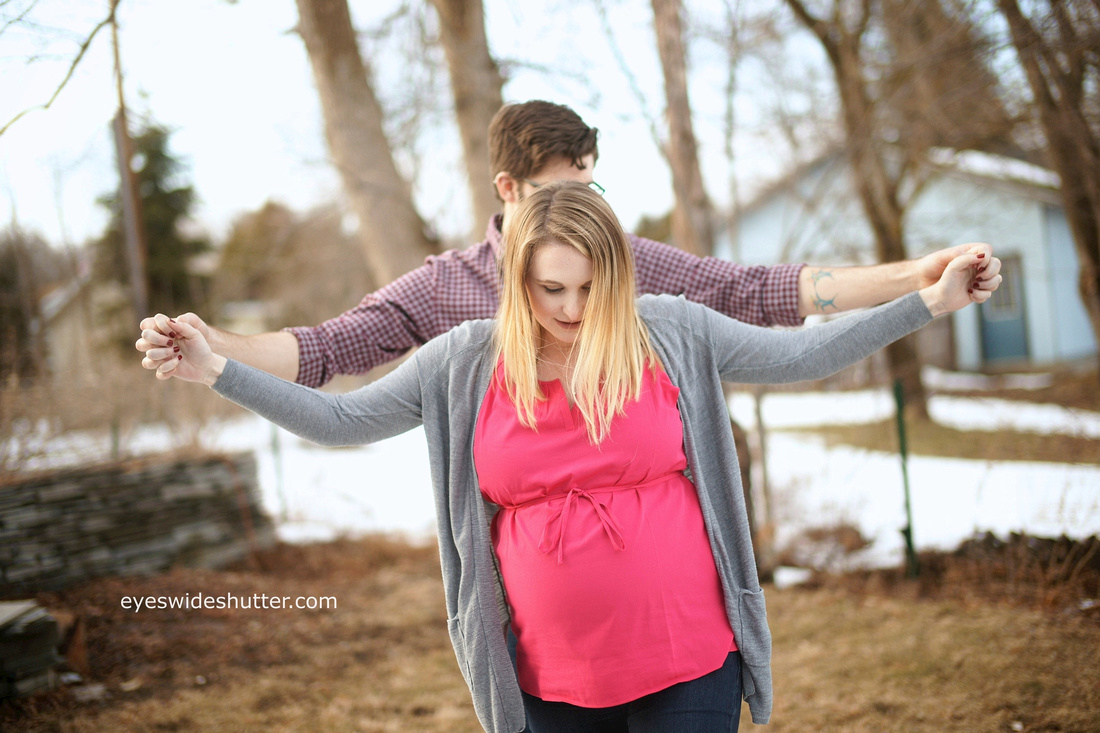 This moment cracks me up because, as the saying would go, "baby steps." A glimpse into Paul's humor.... he has Lauren's hands and says "Mommy steps." Perfect place to end the blog....
But not without Quinn's (fat cat) close-up.
The End